A Look at Gonzoriffic at 10
:
In February 2001, Monica Puller and I made the first of what would end up being many, many films together. Co-starring her then roommate Cara Lott (best known as pregnant wife Cathy in our 2007 feature film "Fake Blood"), "Pop Goes the Evil" was written on a small stack of index cards and shot with a borrowed VHS-C camcorder over the course of a few hours. At the time, we were playing in a band together and doing pretty well with that, so making a movie was more of just a goofy one-off kind of thing. But after we shot the first version of "Cannibal Sisters" the following year, we both kind of knew we were onto something. Having given up on my dreams of film making at age 14 to pursue a life in punk rock, it was safe to say I had some unfinished business there. Suddenly, screen writing appealed more to me than songwriting, and 2 years after we'd shot our first one, Monica and I played our final show with the band and filmed "Buttonhead" the very next day.
With that, Gonzoriffic Films was officially off and running and I haven't looked back since. I'm not quite sure what to say at this point, other than it remains something I am 100% proud of. Through all its different incarnations and stages of life, the ever-rotating group of players and crew, public screenings and conventions, project after project, I am closer and more in love with it than ever before. I'm fiercely protective of its credibility, happy with the image and reputation it has on the underground film scene, and place tremendous value on the positive things it has brought me in my life. It's something my friends and I can do together that's not only fun and creative, but allows for a real feeling of accomplishment felt by everyone involved. Thanks to support from Athens Cine and a small handful of other theaters willing to take a chance on us, the crew has gotten to watch our films on the big screen many, many times. It never gets old, I've learned from it, and I am hopelessly addicted to how it makes me feel inside.
There's much more to say, but this isn't the time or place. Besides, I've written enough in the journal archive to satisfy anyone looking for a Gonzoriffic history lesson. So where do we go from here? That's simple.
Make another movie.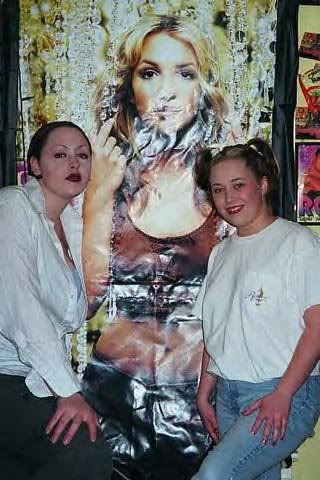 Monica Puller and Cara Lott on the set of our 2001 film "Pop Goes the Evil."